The Science of Good and Evil
Order from Skeptic.com
ORDER paperback book
ORDER the recorded lecture based on the book
Download a Chapter for free
DOWNLOAD a free sample MP3 (17MB)
About the book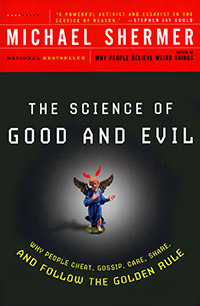 In The Science of Good & Evil, the third volume in his trilogy on the power of belief (the first two volumes were Why People Believe Weird Things and How We Believe: Science, Skepticism, and the Search for God), psychologist and historian of science Dr. Michael Shermer tackles two of the deepest and most challenging problems of our age: (1) The origins of morality and (2) the foundations of ethics. Embedded within these two problems are questions that have occupied the greatest minds in history: Is it in our nature to be moral, immoral, or amoral? If we evolved by natural forces then what was the natural purpose of morality? If we live in a determined universe, then how can we make free moral choices? Does evil exist, and if so, what is the nature of evil? Why do bad things happen to good people? Is there justice in the world beyond the social order? If there is no outside source to validate moral principles, does anything go? Can we be good without God?
In this stunning conclusion to an intellectual journey into the mind and soul of humanity, Dr. Shermer peels back the inner layers covering our core being to reveal a complexity of human motives — selfish and selfless, cooperative and competitive, virtue and vice, good and evil, moral and immoral. Shermer shows how these motives came into being as a product of both our evolutionary heritage and cultural history, and how we can construct an ethical system that generates a morality that is neither dogmatically absolute nor irrationally relative — a provisional morality for an age of science that provides empirical evidence and a rational basis for belief.
Broad in scope, deep in its analysis, and controversial to its core, The Science of Good & Evil applies the latest findings of science to offer an original model of the bio-cultural evolution of morality and a new theory of provisional ethics that challenges the reader to confront these timeless issues from a new perspective — one that suggests that both morality and immorality evolved in human biological and cultural evolution, that we can make free moral choices in a determined universe, that moral principles can have a sound rational basis supported by empirical evidence (without being dogmatically absolutist or dependent on an external source of validation), and that we can be good without God. Shermer calls for a national debate on the origins of morality, the basis of moral principles, and the need for a more universal and tolerant ethic; an ethic that will insure the well-being and survival of all members of the species, and of all species.