On 22 March, 2017 I posted on my Twitter account (@michaelshermer) a link to this article titled "Science march on Washington, billed as historic, plagued by organizational turmoil," which chronicled the "infighting among organizers, attacks from outside scientists who don't feel their interests are fairly represented, and operational disputes." The article went on to note that "Tensions have become so pronounced that some organizers have quit and many scientists have pledged not to attend." Predictably, politics was the divisive element, most notably identity politics involving the proper representation of race and gender diversity, and immigration, obviously in response to the election of Donald Trump. The website of the march felt the need to post an official diversity policy that reads, in part, "We acknowledge that society and scientific institutions often fail to include and value the contributions of scientists from underrepresented groups."
My initial thought was this: So let me get this straight. As the Federal government prepares to cut science budgets across the board, and in an era of fake news and alternative facts, instead of marching to proclaim how important science is to the American economy, not to mention human survival and flourishing, along with our commitment to facts and reason, you want to send a message to the public in general and the Trump administration in particular that science—the most universal institution in human history—is a failure when it comes to diversity and inclusion?
But then I realized that this had nothing to do with the ideals of science, which I articulated in a tweet posted shortly after the link to the article:
Science is universal, international, inclusive, nonpartisan, a-political, a-gender, a-race, & a-ideological. Don't inject identity politics.

— Michael Shermer (@michaelshermer) March 23, 2017
Although clearly this tweet seemed to resonate with many (over 4000 in fact), it also brought down upon my head a heap of hate. Many couldn't see the point I was making: that a public march celebrating science is probably not the best place to engage in an in-depth history of science and its shortcomings when it comes to women and minorities, which are well documented and against which much progress has been made the past half century. You can see the tweet, and its responses. Typical of critical replies were these:
@michaelshermer if that were true, hiring, promotion, tenure, citation, publication, conferences would mirror population demographics (1/3)

— Meredith Schwartz (@Kalendaries) March 23, 2017
Have you considered how science played a role in the development of nukes, bombs, military tech, eugenics, genocide & so on? @michaelshermer

— feral fawcett (@nixnutzich) March 23, 2017
And my favorite, which I liked so much I retweeted it: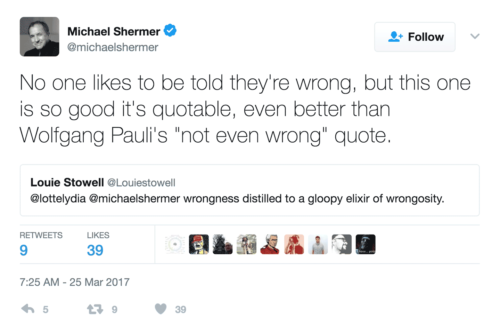 I tried to explain that I was tweeting about an ideal we should strive for (and for which science is particularly well positioned to implement), not a 140-character history of science.
I thought March for Science is to affirm our commitment to facts in the face of fake news & alternative facts, not social justice politics.

— Michael Shermer (@michaelshermer) March 23, 2017
I was promptly reminded of Hiroshima, Tuskegee, eugenics, etc., along with the documented biases against women and minorities in the past, to which I replied:
If you want to make it the March for Social Justice in Science that's a different theme than a march for commitment to facts & evidence.

— Michael Shermer (@michaelshermer) March 23, 2017
And this one in particular seemed to trigger emotions in a lot of readers:
As for my tweet science = universal, inclusive etc., there is just "Physics" not "Feminine Physics" "Transgender Physics" "Gay Physics" etc.

— Michael Shermer (@michaelshermer) March 23, 2017
Yesterday I hosted the theoretical physicist and popular science writer Lawrence Krauss for our Science Salon series and we were asked our thoughts on the March for Science by an audience member who had been following the Twitter-Storm over my tweet. Given that Krauss has worked in academia his entire career, including being involved in the hiring process of physicists, I asked him why people seem to think that science still excludes women and minorities (and others) when, in fact, it is peopled by professors who are almost entirely liberals who fully embrace the principles of inclusion (and the laws regarding affirmative action). Are we to believe that all these liberal academics, when behind closed doors, privately believe that women and minorities can't cut it in science and so they continue to mostly hire only white men?
Krauss was unequivocal in his response. Absolutely not. There has never been a better time to be a woman in science, he explained, elaborating that at his university, Arizona State University, not only does the student body perfectly reflect the demographics of the state of Arizona, the President of ASU has mandated that if two candidates are equally qualified for a professorship, one a man and the other a woman, the woman should be selected for the job. Full stop.
This is not to say that there is perfect demographic parity in all of the sciences. There is not for a host of reasons, not the least of which is that equal opportunity for all is the goal, not perfect political identity (if that were the case then there should be affirmative action for conservatives, who are today among the least represented on college campuses). What we have been doing since the 1960s is to correct the biases of the past and open the doors to more people in more fields. To deny that there has been moral progress in this area is to deny the magnificent work of the civil rights, women's rights, and gay rights activists of the past half century, as if their efforts counted for nothing. I wrote a book about how this happened, its title inspired as it was by the greatest of civil rights champions Martin Luther King Jr., but the story is not over. We have a long way to go but we've come a long way, thanks in large part to science and reason, so if there is something that I plan to march for on April 22 it is that fact, which is not an alternative fact but a real one.
Recommended by Amazon