A review of It's Better Than it Looks: Reasons for Optimism in an Age of Fear by Gregg Easterbrook (Public Affairs. February 2018. ISBN 9781610397414.) A shorter version of this review was published in the Wall Street Journal on February 28, 2018 under the title "Why Things Are Looking Up".
Though declinists in both parties may bemoan our miserable lives, Americans are healthier, wealthier, safer and living longer than ever.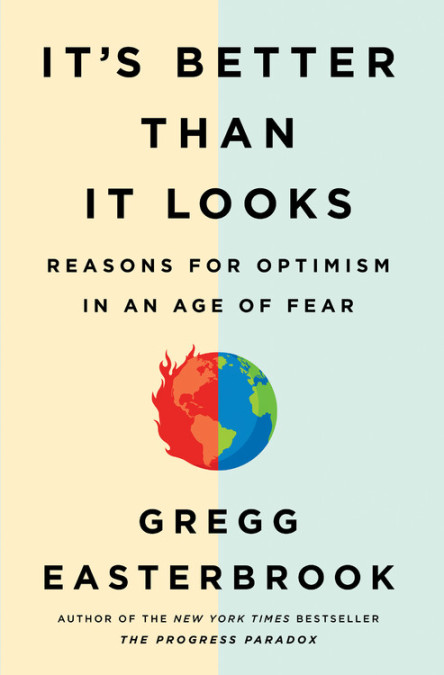 In his 1971 book A Theory of Justice, the Harvard philosopher John Rawls argued that in the "original position" of a society we are all shrouded in a "veil of ignorance" of how we will be born—male or female, black or white, rich or poor, healthy or sick, slave or free—so society should be structured in such a way that laws do not privilege any one group because we do not know which category we will ultimately find ourselves in.
Writing during a time when civil unrest over centuries of injustice was spilling out into the streets in marches and riots, Rawls' work was as much prescriptive as it was descriptive. But 45 years later, at a 2016 speech in Athens, Greece, President Barack Obama affirmed that a Rawlsian society was becoming a reality: "If you had to choose a moment in history to be born, and you did not know ahead of time who you would be—you didn't know whether you were going to be born into a wealthy family or a poor family, what country you'd be born in, whether you were going to be a man or a woman—if you had to choose blindly what moment you'd want to be born you'd choose now." As Obama explained to a German audience earlier that year: "We're fortunate to be living in the most peaceful, most prosperous, most progressive era in human history," adding "that it's been decades since the last war between major powers. More people live in democracies. We're wealthier and healthier and better educated, with a global economy that has lifted up more than a billion people from extreme poverty." (continue reading…)
Comments Off

on Realizing Rawls' Just Society