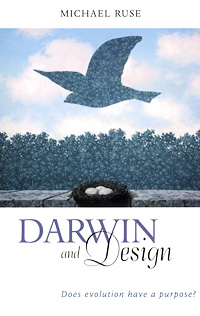 A review of Michael Ruse's Darwin and Design: Does Evolution have a Purpose?.
Psalms 19:1 declares: "The heavens declare the glory of God; and the firmament showeth his handiwork." The divine design inference is not confined to the ancient Hebrews.
In 1999 social scientist Frank J. Sulloway and I conducted a national survey, asking Americans why they believe in God. The most common reason offered was the good design, natural beauty, and complexity of the world. One subject wrote: "To say that the universe was created by the Big Bang theory is to say that you can create Webster's Dictionary by throwing a bomb in a printing shop and the resulting explosion results in the dictionary." He is not alone. A 2001 Gallup poll found that 45 percent of Americans believe that "God created human beings pretty much in their present form at one time within the last 10,000 years or so," 37 percent believe that "Human beings have developed over millions of years from less advanced forms of life, but God guided this process," while only 12 percent believe that "Human beings have developed over millions of years from less advanced forms of life, but God had no part in this process."
The reason people think that a designer created the world is because, well, it looks designed, and philosopher and Darwinian defender Michael Ruse thinks that it's high time we quit tiptoeing around this inference. This he does in Darwin and Design, the comprehensive, scholarly, and highly accessible third volume in his trilogy on the history and impact of evolutionary thought that began with Monad to Man (on progress in evolution), and continued with Mystery of Mysteries (on evolution as a social construction). Ruse has done as much as any scholar of the past century to explicate the social and cultural meanings engendered by the theory of evolution, and to identify clearly when scientists step out of their roles as objective observers of nature to speculate on the higher and deeper implications of their theories (compare, for example, Edward O. Wilson's technical book The Ants with his general work attempting to unify the sciences in Consilience). In this third volume Ruse asks whether the apparent design of nature implies not only a designer, but a purpose.
Let's admit right from the start, says Ruse, that life looks designed because it was … from the bottom up by evolution. Purpose follows. "There is nothing very mysterious about purpose in evolution," Ruse explains. The purpose is functional adaptation: "At the heart of modern evolutionary biology is the metaphor of design, and for this reason function-talk is appropriate. Organisms give the appearance of being designed, and thanks to Charles Darwin's discovery of natural selection we know why this is true. Natural selection produces artifact-like features, not by chance but because if they were not artifact-like they would not work and serve their possessors' needs" (273). More cautious evolutionary theorists like Ernst Mayr worry that "the use of terms like purposive or goal-directed seemed to imply the transfer of human qualities, such as intent, purpose, planning, deliberation, or consciousness, to organic structures and to subhuman forms of life." To which Ruse replies: "Well, yes it does!" So what? At the heart of science is metaphor — Ruse notes that physicists talk of force, pressure, attraction, repulsion, work, charm, and resistance, all quite useful metaphors — and the metaphors of design and purpose work well as long as we stick to natural explanations for nature and understand that natural selection (another metaphor) is the primary mechanism for generating design and purpose, from the bottom up.
What role, then, is there for a top-down designer? If you are one of those 37 percent who believe that God guided the process of evolution then, on one level, Ruse has no truck with you, and he is in good company. In his 1996 Encyclical Truth Cannot Contradict Truth, Pope John Paul II told a billion Catholics that, in essence, evolution happened — deal with it: "It is indeed remarkable that this theory has been progressively accepted by researchers, following a series of discoveries in various fields of knowledge. The convergence, neither sought nor fabricated, of the results of work that was conducted independently is in itself a significant argument in favor of the theory." Since both the Bible and the theory of evolution are true (and truth cannot contradict truth), John Paul II reconciled theological dualism with scientific monism by arguing that evolution produced our bodies while God granted us our souls.
This conciliatory position is fine as far as it goes, but Ruse shows through a rich and variegated historical recapitulation of design arguments that many thinkers are not content to keep the magisteria of science and religion separate. They want empirical data to prove faith tenets, and it is here where Ruse steps out of his role as historian and philosopher and becomes an evolutionary activist, debunking in no uncertain terms the claims of the latest species (some would call them mutants) of creationists: Intelligent Design Theorists, or William Paley redux. Paley was the 18th century natural theologian whose "watchmaker" argument became the foundation of all modern design arguments. IDers recast Paley in modern jargon with new and more sophisticated biological examples (such as bacterial flagellum and blood clotting agents). But as Darwin showed — and a century and a half of research has proven — the designer is (in Richard Dawkins' apposite phrase) a blind watchmaker. Complex structures can and do arise out of simple systems through blind variation, selection, and adaptation. This is an inevitable outcome of Darwinism which, says Ruse, "Whether we like it or not, we are stuck with it. The Darwinian revolution is over, and Darwin won" (330).
It would appear that this leaves us with a worldview shared by only 12 percent of the American public. This will not do, so Ruse closes his volume with an intriguing plea: "What I am arguing for is a theology of nature … where the focus is back on adaptation. A theology of nature that sees and appreciates the complex, adaptive glory of the living world, rejoices in it, and trembles before it. I argue for this even though the people who reveal it to us today in its fullest majesty may be people for whom Christianity evokes emotions ranging from bored indifference to outright hostility. This is irrelevant, especially to those of us who know professional Darwinian evolutionists. As Ernst Mayr once said to me: 'People forget that it is possible to be intensely religious in the entire absence of theological belief.' Theologians working on the science/religion relationship, few of whom have actually had hands-on experience with nature, let the hostility of atheists like Dawkins, or their embarrassment with the Intelligent Design enthusiasts, blind them to the genuine love and joy with which today's professional evolutionists respond to their subjects" (335).
Ruse's poetically courageous proposal will no doubt generate cries that the theory of evolution is a religion, but the fact is that as pattern-seeking, storytelling primates who need origin myths, the theory of evolution fulfills that need for us and has the added advantage that, unlike most origin myths, it is very probably true.
(Harvard University Press, 2003, ISBN 0674016319)
This review was originally published in the New York Times.
Recommended by Amazon