Why Stephen Hawking is wrong
about extraterrestrial intelligences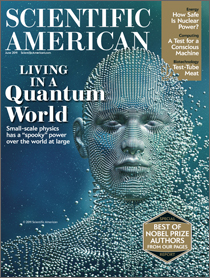 WITH THE ALLEN TELESCOPE ARRAY run by the SETI Institute in northern California, the time is coming when we will encounter an extraterrestrial intelligence (ETI). Contact will probably come sooner rather than later because of Moore's Law (proposed by Intel's co-founder Gordon E. Moore), which posits a doubling of computing power every one to two years. It turns out that this exponential growth curve applies to most technologies, including the search for ETI (SETI): according to astronomer and SETI founder Frank Drake, our searches today are 100 trillion times more powerful than 50 years ago, with no end to the improvements in sight. If E.T. is out there, we will make contact. What will happen when we do, and how should we respond?
Such questions, once the province of science fiction, are now being seriously considered in the oldest and one of the most prestigious scientific journals in the world—Philosophical Transactions of the Royal Society A—which devoted 17 scholarly articles to "The Detection of Extra-Terrestrial Life and the Consequences for Science and Society" in its February issue. The myth, for example, that society will collapse into fear or break out in pandemonium—or that scientists and politicians will engage in a conspiratorial cover-up—is belied by numerous responses. Two such examples were witnessed in December 2010, when NASA held a very public press conference to announce a possible new life-form based on arsenic, and in 1996, when scientists proclaimed that a Martian rock contained fossil evidence of ancient life on the Red Planet and President Bill Clinton made a statement on the topic. Budget-hungry space agencies such as NASA and private fund-raising organizations such as the SETI Institute will shout to the high heavens about anything extraterrestrial they find, from microbes to Martians. But should we shout back to the aliens?
According to Stephen Hawking, we should keep our mouths shut. "We only have to look at ourselves to see how intelligent life might develop into something we wouldn't want to meet," he noted in his 2010 Discovery Channel documentary series. "I imagine they might exist in massive ships, having used up all the resources from their home planet. Such advanced aliens would perhaps become nomads, looking to conquer and colonize whatever planets they can reach." Given the history of encounters between earthly civilizations in which the more advanced enslave or destroy the less developed, Hawking concluded: "If aliens ever visit us, I think the outcome would be much as when Christopher Columbus first landed in America, which didn't turn out very well for the Native Americans."
I am skeptical. Although we can only represent the subject of an N of 1 trial, and our species does have an unenviable track record of first contact between civilizations, the data trends for the past half millennium are encouraging: colonialism is dead, slavery is dying, the percentage of populations that perish in wars has decreased, crime and violence are down, civil liberties are up, and, as we are witnessing in Egypt and other Arab countries, the desire for representative democracies is spreading, along with education, science and technology. These trends have made our civilization more inclusive and less exploitative. If we extrapolate that 500-year trend out for 5,000 or 500,000 years, we get a sense of what an ETI might be like.
In fact, any civilization capable of extensive space travel will have moved far beyond exploitative colonialism and unsustainable energy sources. Enslaving the natives and harvesting their resources may be profitable in the short term for terrestrial civilizations, but such a strategy would be unsustainable for the tens of thousands of years needed for interstellar space travel. In this sense, thinking about extraterrestrial civilizations forces us to consider the nature and progress of our terrestrial civilization and offers hope that, when we do make contact, it will mean that at least one other intelligence managed to reach the level where harnessing new technologies displaces controlling fellow beings and where exploring space trumps conquering land. Ad astra!
Recommended by Amazon