Why people who believe in one conspiracy
are prone to believe others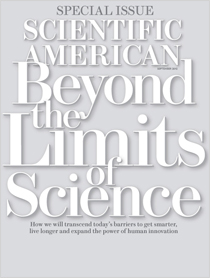 ON WEDNESDAY, MAY 16, I spent several hours on a hot bus in a neon desert called Las Vegas with a merry band of British conspiracists during their journey around the Southwest in search of UFOs, aliens, Area 51 and government cover-ups, all for a BBC documentary. One woman regaled me with a tale about orange balls of energy hovering around her car on Interstate 405 in California, which were subsequently chased away by black ops helicopters. A man challenged me to explain the source of a green laser beam that followed him around the English countryside one evening.
Conspiracies are a perennial favorite for television producers because there is always a receptive audience. A recent Canadian Broadcasting Corporation documentary that I participated in called Conspiracy Rising, for example, featured theories behind the deaths of JFK and Princess Diana, UFOs, Area 51 and 9/11, as if there were a common thread running throughout. According to radio host and conspiracy monger Alex Jones, also appearing in the film, "The military-industrial complex killed John F. Kennedy" and "I can prove that there's a private banking cartel setting up a world government because they admit they are" and "No matter how you look at 9/11 there was no Islamic terrorist connection—the hijackers were clearly U.S. government assets who were set up as patsies like Lee Harvey Oswald." (continue reading…)
read or write comments (31)